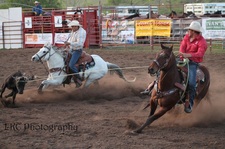 Package A - "Full Blown Mini-Rodeo Show"
*Grand Entry/Flag Ceremony
*Announcer/sound system
*Bucking Horse Riding
*Roping
*Volunteers from the crowd get hands-on experience roping dummy/bale of hay
*Barrel Racing
*Mutton Bustin'
*Clown act
*Steer Wrestling/Chute doggin'
*Cowboy Story Telling
*Bull Riding
*Event "Chalk talks"
*Questions/Answers
*Autographs



---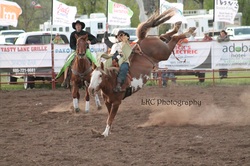 Package B - "Rough Stock Extravaganza"
*Grand Entry/Flag Ceremony
*Bucking Horse Riding
*Bucking Horse Riding "Chalk talk"
*Clown act
*Cowboy Story Telling
*Bull Riding
*Bull Riding "Chalk talk"
*Optional Wild Ride
*Questions/Answers
*Autographs


---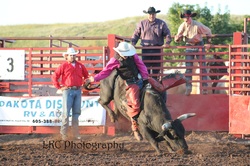 Package C - "Bull Riding Spectacular"
*Bucking Bulls
*Bull Riders
*Clown act
*Sound System/Announcer/Music
*Questions/Answers
*Autographs
*Bullfighters
*"Chalk talk" by both bullfighters and bull riders
---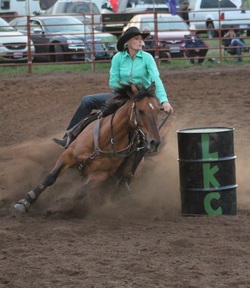 Package D - "Western Heritage Special"
*Grand Entry/Flag Ceremony
*Bucking Horse Riding
*Bucking Horse Riding "Chalk talk"
*Roping demonstration
*Roper interview/"Chalk talk"
*Volunteers from the crowd get hands-on experience roping dummy/bale of hay *Barrel Racing
*Barrel Racing "Chalk talk"
*Steer Wrestling Explanation
*Chute dogging
*Cowboy Story Telling
*Questions/Answers
*Autographs
---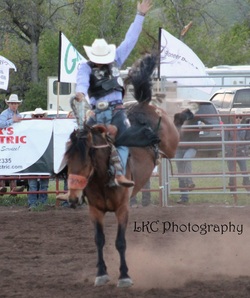 Package E - "Bronc Bustin"
*Grand Entry/Flag Ceremony
*Bucking Horse Riding
*Bucking Horse Riding "Chalk talk"
*Autographs/photos
*Optional video playback, DVD sales
---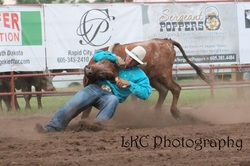 Package F - "Ropin, Ridin, and Restlin"
=>This would actually be a mini-rodeo on the timed-event side, where the following features would be included:
*Grand Entry/Flag Ceremony
*Roping demonstration, including Roper interview/"Chalk talk"
*Volunteers from the crowd get hands-on experience roping dummy/bale of hay
*Barrel Racing, including "Chalk talk"
*Can call for volunteers from the audience to participate in Barrel Race
*Steer Wrestling Explanation, including chute dogging
*Cowboy Poetry/Story Telling
*Questions/Answers *Autographs/photos
*Optional video playback, DVD sales


---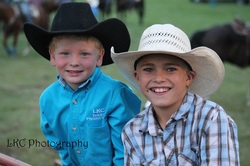 Package G - "Mutton Bustin' Mania"
=>We will provide the sheep, grand entry/flag ceremony and production, while the guests will provide the riders. This is one where we will definitely want to video as the guests will want a copy of their kids participating in a western function!
---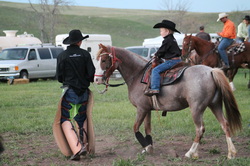 Package H - "Down and Dirty"
=>This package has various options and is the budget-friendly version. It can be featured as "Rodeo Roping Clinic" or "Barrel Racing Burnout" could be marketed as a per-request basis for a single family as a private lesson or could be an offering for all guests. These packages can be classroom activities and range to hands-on events including real horses.

Either way, all concepts from grooming and equipment to riding techniques and advanced coaching are included. We can provide horses or use yours. For the roping, will provide roping dummies/bales of hay, various styles of ropes, and gloves to provide a hands-on roping demonstration, where the guests will receive instruction on basic roping techniques. 1-2 instructors will demonstrate techniques on heading, heeling, and ranch roping. Then, guests will have a chance to participate with guidance from the instructors. *For an additional fee, the instructors could bring horses/cattle and do a mounted horseback roping demonstration. (This may require some facility setup cost)

The difference in pricing would determine whether we would provide simply instruction or bring horses to ride with the guest/demonstrate horseback technique. If desired, the sessions can be videotaped for an after-the-fact analysis or to burn on DVDs as a souvenir for the guests. Questions and answers will follow, with autographs/pictures if desired.


---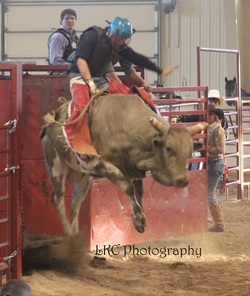 Package I - Large-scale Rodeo or Bull Riding

*Call/email for specifics and pricing


---