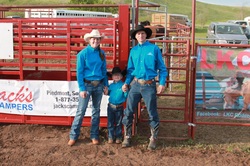 Leland, Katie, and Cooper make up the LKC in LKC Rodeo Productions. Established in 2009, this family owned and operated company built their business from the ground up through blood, sweat and tears. They are personally responsible for everything you will see at each production, including the facility to animals, cowboys, personnel, production and anything in between. You may recognize Leland from the Big Sky 4th of July Rodeo or the West Yellowstone Rodeo series. Leland has done everything in rodeo from promotion to production, including roping, riding, ranching, flanking, gathering, announcing, and of course picking up bucking horses. He has done this all across the pacific northwest in countless public venues, belonging to more rodeo associations than one can count. In 1998, he began creating new rodeos at sites that never before hosted a rodeo to enter the retail market. In 2000, he was instrumental in development of the Wild West Yellowstone Rodeo, built its website and online ticket sales, organized all the contestants, and acquired rodeo sponsors and the support of the town. Ten years later, the rodeo has developed into a 55 performance monster, respected by the rodeo industry.

In 2009, the concept of private rodeos and portable shows for entertainment at venues that don't have a facility was born. Coincidentally, 2009 also brought the "C" to LKC Rodeo Productions, when SOOPER COOPER was born. When you watch Cooper ride his horse, you will see that generation #4 of the McMillan rodeo family is stronger than ever! Now, LKC Rodeo Productions brings the rockinest rodeo entertainment to venues all across the western states, including corporate retreats, resorts, gated communities, and any other party you can imagine all across the West.

In Leland's days of public rodeo production, he met the lady who stole his heart while producing a rodeo in Superior, MT. In 2005 and 2006, they won the WWYR team roping title. In 2007, Katie broke her neck on a bucking horse but fought the pain all summer to take care of business and still managed to place 3rd for the year end. In 2008, she was back on top in the team roping and that is how Katie operates. Wild horses -literally - cannot keep her from keeping her rodeo dreams from succeeding. Leland will be the first to credit Katie as the real key to the success this team has achieved.












---